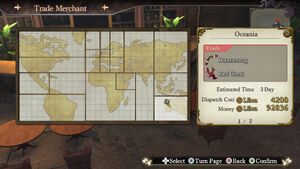 Trade Merchant is where to obtain rare items from various places around the world. This feature is available at the near end of Chapter 2 - Interlude and can be accessed from Lloyd's shop.
Trade Merchant requires to spend Libra to send Lloyd's contact to any part of the world to obtain rare items. The number of days it takes for the merchant to return and the cost of the expedition depends on the region. Take note that "one day" is equivalent to Arnice completing her day activities. Once the time is up, talk to Lloyd to obtain one of the two items can get from the region where the merchant sent to.
There is a skill called "Trade Cost Less" that lowers the expedition cost up to half. This skill is available once Arnice reaches Level 6. The story progress will also decrease the amount of days from specific regions.
List of Trade Items
Edit
Region
Trade
Estimated Time
Dispatch Cost
North America
Totem Necklace
???
4 Days
3600
America
War Bonnet
Rusty Horseshoe
6 Days
3900
Central America
Big Stone Balls
???
12 Days
31600
Caribbean Islands
Old Gold Coin
???
12 Days
24000
South America
Crystal Skull
Macaw's Tailfeather
12 Days
26000
Arctic Ocean
Narwhal's Tusk
Sea Serpent's Tooth
2 Days
1040
England
Top Hat
Leviathan's Fin
1 Day
380
Western Europe
Worn Tarot Card
French Doll
2 Days
1000
Scandinavia
Runestone
Screaming Painting
2 Days
940
North Sea
Nutcracker
Ancient Dragon Bone
1 Day
400
Mediterranean Basin
Blood Spear
Gladiator
2 Days
1200
Western Russia
Matryoshka Doll
Faberge Egg
2 Days
2200
Eastern Europe
Colossus Fragment
Pyramid Slab
6 Days
6000
Africa
Beast King's Mane
Gold Bar
6 Days
10500
Middle East
Mermaid's Tear
???
8 Days
16000
Eastern Russia
Alexandrite
Fluffy Hat
6 Days
6000
India
Blue Diamond
Pigeon Blood Ruby
8 Days
16000
Far East
Iron Shoes
???
12 Days
16400
Southeast Asia
Koteka
???
15 Days
17500
Oceania
Boomerang
Red Coral
15 Days
30000