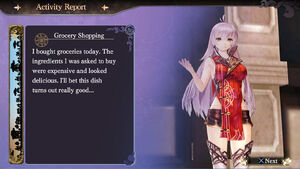 Daytime Activities will allow to schedule what Arnice will do in the following day in Nights of Azure.
You can earn skill points depending on the activities you have set for her. Take note that you have to spend time (5 minutes or more) hunting fiends so you can also perform daytime activities the following day. You can see the results of your daytime activities in the Activity Report. You can add more Daytime Activities (max 3) by acquiring the "Daytime Activity Up" skill.
Daytime quests that can be only completed while conducting Daytime Activities. They will take up one slot of your Daytime Activity so make sure to check them so you can change the plans according to which skill point you want to earn alongside the quest completion.
Repeatedly perform Daytime Activities to unlock higher tier of activities. Once unlocked, they'll appear in your Skills list and you still have to spend skill points to be able to select them. Also, completing Day Quests will unlock new Daytime Activities related to the quest.
Activity List
Edit
| Category | Action | Spirit | Finesse | Stamina | Charm |
| --- | --- | --- | --- | --- | --- |
| Relaxation | Zone Out | 3 | 0 | 0 | 0 |
| Relaxation | Walking | 8 | 0 | 0 | 3 |
| Relaxation | Napping | 6 | 5 | 0 | 0 |
| Relaxation | Bathing | 5 | 0 | 6 | 0 |
| Relaxation | Eating | 9 | 0 | 0 | 2 |
| Relaxation | Tea Break | 11 | 0 | 0 | 0 |
| Relaxation | Sunbathing | 8 | 0 | 3 | 0 |
| Relaxation | Shopping | 8 | 3 | 0 | 0 |
| Relaxation | Flea Market | 9 | 2 | 0 | 0 |
| Hobby | Reading | 0 | 0 | 0 | 5 |
| Hobby | Fortune Telling | 3 | 0 | 0 | 8 |
| Hobby | Playing Cards | 0 | 0 | 5 | 6 |
| Hobby | Skecthing | 0 | 3 | 0 | 8 |
| Hobby | Eating and Walking | 5 | 0 | 0 | 6 |
| Hobby | Music Appreciation | 0 | 0 | 2 | 9 |
| Hobby | Collecting | 0 | 0 | 3 | 8 |
| Hobby | Stargazing | 0 | 2 | 0 | 9 |
| Hobby | Eating Contest | 0 | 0 | 0 | 11 |
| Life | Diary | 0 | 5 | 0 | 0 |
| Life | Cooking | 0 | 8 | 0 | 3 |
| Life | Baking | 2 | 9 | 0 | 0 |
| Life | Chocolate Making | 2 | 12 | 3 | 0 |
| Life | Handcrafting | 3 | 8 | 0 | 0 |
| Life | Gardening | 0 | 6 | 0 | 5 |
| Life | Pressing Flowers | 0 | 9 | 0 | 2 |
| Life | Fashion | 5 | 6 | 0 | 0 |
| Life | Tidying Up | 0 | 8 | 3 | 0 |
| Leisure | Training | 0 | 0 | 5 | 0 |
| Leisure | Fishing | 5 | 0 | 6 | 0 |
| Leisure | Horseback Riding | 0 | 0 | 9 | 2 |
| Leisure | Dancing | 0 | 2 | 6 | 0 |
| Leisure | Running | 3 | 0 | 8 | 0 |
| Leisure | Play with a Dog | 0 | 0 | 11 | 0 |
| Leisure | Picnic | 0 | 0 | 8 | 3 |
| Leisure | Birdwatching | 0 | 3 | 8 | 0 |
| Leisure | Dieting | 2 | 0 | 9 | 0 |
| Part-time | Side Job | 0 | 0 | 0 | 2 |
| Part-time | Jack of All Trades | 0 | 3 | 2 | 2 |
| Part-time | Dishwashing | 2 | 6 | 0 | 0 |
| Part-time | Patissier | 6 | 0 | 2 | 0 |
| Part-time | Detective | 0 | 0 | 5 | 3 |
| Part-time | Pet Sitter | 5 | 0 | 3 | 0 |
| Part-time | Modelling | 0 | 0 | 0 | 8 |